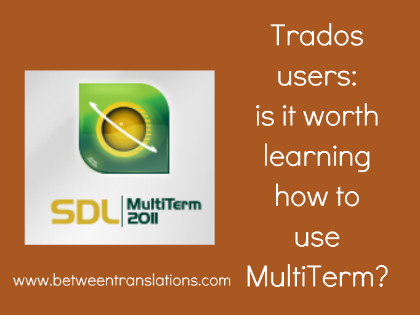 Rumour has it that the majority of translators who use Trados don't use MultiTerm. This may be because some translators find it a bit complicated to use, or because the concordance within Trados can be useful enough for looking up terms.
However, a good termbase is a great asset and can save a lot of time. Once it's set up it's easy to add terms as you translate. If any of the saved terms are in the source text, MultiTerm will recognise these and display them for quick insertion into the target text. This means that the terminology in the translation will be consistent, increasing the translation quality.
If you have a glossary in Excel, you can also convert and import this into MultiTerm, so that the terms will be recognised as you translate within Trados. Again, it's very easy to insert the terms into your translation.
In future posts I'll explain how to:
In a related post I'll also cover: The quick way to convert glossaries and termbases between Excel and MultiTerm.
As you can see there are a few things to learn, but it's definitely worth the effort for the increased speed, quality and consistency in your translations.
By Jayne Fox BSc MITI, German-English translator.
For German-English medical translation – and translation of corporate communications.
You might also like: