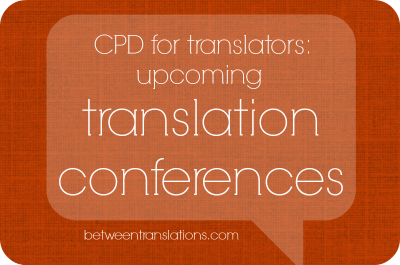 I just love being a freelance translator. I love the flexibility, creativity and intellectual challenge of translation. But sometimes I miss spending time with my colleagues. Like you, dear reader – I miss spending time with you. Wouldn't it be great to have a few days together to learn from each other, share our enthusiasm and exchange ideas? It certainly would! Here's a list of upcoming translation conferences where we can all do exactly that.
List of translation conferences 2014-15
The FIT World Congress in Berlin and the IAPTI International Conference in Athens will be excellent opportunities for translators to meet colleagues from around the world. For me, the AUSIT conference in Brisbane will be a bit closer – and the NZSTI conference next year will be in my home city of Wellington! We're already planning the programme – fancy coming over to check it out?
Here's what's coming up over the next year or so:
| | | |
| --- | --- | --- |
| 4-6 August 2014 | FIT XXth World Congress: Man vs. Machine? The Future of Translators, Interpreters and Terminologists. International Federation of Translators. | Berlin, Germany |
| 10-15 August 2014 | One World, Many Languages. 17th World Congress of the International Association of Applied Linguistics (AILA). | Brisbane, Australia |
| 20-21 September 2014 | IAPTI 2nd International Conference, International Association of Professional Translators and Interpreters. | Athens, Greece |
| 20-21 September 2014 | 5th ABRATES International Congress on Translation and interpretation. | Rio de Janeiro, Brazil |
| 3-5 October 2014 | MedTranslate Conference 2014, international conference for medical translators organised by The Alexandria Project and the GxP Language Services translation company. | Freiburg im Breisgau, Germany |
| 30 October-1 November 2014 | 10th Mediterranean Editors and Translators Meeting 2014. Innovation and tradition: mining the human resource. | Madrid, Spain |
| 1-2 November 2014 | AUSIT Biennial National Conference 2014 – Transition Into the Future. Australian Institute of Interpreters and Translators. | Brisbane, Australia |
| 1-2 November 2014 | Xl8camp: First German Barcamp for Translators, independently organised event for translators. | Sayda, Germany |
| 5-8 November 2014 | ATA 55th Annual Conference, American Translators Association. | Chicago, IL, United States |
| 8 November 2014 | 14th Annual Portsmouth Translation Conference, From Classroom to Workplace, University of Portsmouth. | Portsmouth, UK |
| 27-28 November 2014 | NTIF 2014, The Nordic Translation Industry Forum. | Helsingør, Denmark |
| 27-28 March 2015 | Translation & Localization Conference. | Warsaw, Poland |
| 23-25 April 2015 | ITI conference 2015 'Renew, Rejuvenate, Regenerate – Translating and interpreting in an evolving world'. Institute of Translation and Interpreting. | Newcastle Gateshead, United Kingdom |
| 1-2 May 2015 | BP15, independently organised international conference for freelance translators. | Zagreb, Croatia |
| 27-29 May, 2015 | IV International Conference on Corpus Use and Learning to Translate, University of Alicante. | Alicante, Spain |
| 27-28 June 2015 | NZSTI conference 2015, New Zealand Society of Translators and Interpreters. | Wellington, New Zealand |
| 24-27 August 2015 | 15th International Conference on Translation, PPA15, Malaysia. | Kuala Lumpur, Malaysia |
| 4-7 November 2015 | ATA 56th Annual Conference, American Translators Association. | Miami, FL, United States |
| And a Brisbane bonus in 2017 | XXIst FIT Triennial World Congress. | Brisbane, Australia |
But is attending a translation conference a good investment?
There's certainly no shortage of conferences, and the packed programmes offer a huge range of presentations and training for translators. But are they worth the investment?
While the training itself can be invaluable, many translators also meet new customers at translation conferences, as well as meeting colleagues who can pass on referrals in future. A conference may also be an unforgettable experience, as testified by Herman Boel in his review of the IAPTI conference in 2013.
As for the cost, it's often cheaper to attend a conference if you are a member of the translation association running it (or an affiliated organisation) – giving you a good reason to join the association before registering. Some translation associations also offer funding for their own members to attend translation conferences abroad, so it's worth checking with your national association to see if they offer this kind of assistance.
As with most things, the better you prepare for the conference, the more you will get out of it, as explained by Tess Whitty in her post on getting the most out of a conference.
Let me know
Do you agree that attending a translation conference is a worthwhile investment? Are you planning to attend one of the conferences listed here, or one that I've missed off the list? I'd love to hear your thoughts – let me know in the comments below.
By Jayne Fox BSc MITI, German-English translator. 
For German-English medical translation – and translation of corporate communications.
You might also like: