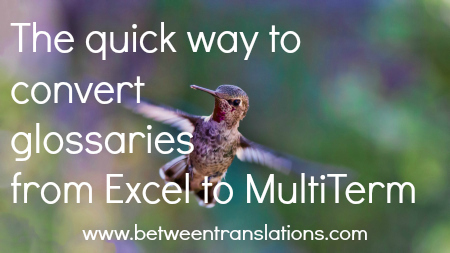 Today I tried the Glossary Converter app, which is a free tool from the SDL OpenExchange to convert glossaries and termbases between Excel and MultiTerm. I found it amazingly quick and simple to use.
I'm used to slogging through the lengthy process to create a termbase in MultiTerm and import a bilingual Excel glossary, so that I can use it for translation in Trados Studio. It's not very pleasant but there was never any alternative. But now, at least for basic glossaries, those days are over – the new app makes the process super-quick and easy.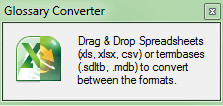 You can use the Glossary Converter to convert from Excel to MultiTerm or from MultiTerm to Excel format. It comes with documentation so there's no mystery about how to use it, and it really couldn't be simpler.
The only catch is that you need to have MultiTerm 2011 and Microsoft Excel installed in order to use the app.

To convert between formats, all you do is drag the Excel glossary or MultiTerm file onto the desktop icon. The app then converts the file into MultiTerm or Excel format, and saves the output file(s) in the same folder as the original.
The previous version of the app couldn't handle synonyms, but the current one can. There's more information about how the Glossary Converter works in the documentation.
My guess is that this will be a very popular app. I have a few clients who send me Excel glossaries to use in my translations, so this app will definitely make the translation workflow easier.
By Jayne Fox BSc MITI, German-English translator.
For German-English medical translation – and translation of corporate communications.
Photo: unsplash.com via pexels.com
You might also like: