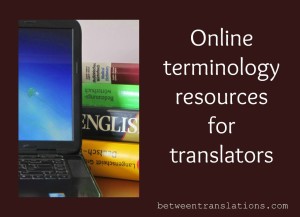 Terminology is crucial for our work as translators. We are continually searching for the right words – in our heads, in dictionaries or online resources, or in our translation memories and terminology databases. Here are some useful, free resources to help find the right terminology for your translations.
IATE
IATE is the EU's "InterActive Terminology for Europe" terminology database. It's been around for a while but the search interface has recently been updated, and it's now much easier to use. The most useful change is the autofill in the search bar – now you just need to choose your source language and start typing. Once you've entered three letters, a list of term suggestions displays. Select the term and either choose your target languages or select "Any", and search to see the results.
Glossaries
TermCoord, the European Parliament Terminology Coordination website, has a handy tool called Glossary Links. This is a good way to search for glossaries in a range of categories and languages.
Lexicool is a directory of online bilingual and multilingual dictionaries and glossaries. Select one or two languages and a subject area, and search to find relevant glossaries.
Another handy listing is the Glossarissimo blog of monolingual and multilingual glossaries and resources for translators, along with the Glossarissimo Facebook group for submitting new resources.
IntelliWebSearch
IntelliWebSearch is a powerful search tool to find terms online. It's free to download and allows you to set up your own keyboard shortcuts to search your favourite online terminology resources. It takes an hour or so to set it up, and then you'll be ready to go. There is also a series of webinars on IntelliWebSearch from eCPD Webinars.
A few dictionaries
A few other handy terminology resources
And how do you manage your terminology?
As well as using online terminology resources, we also need somewhere to store important terms. A recent survey by eCPD Webinars found that most translators do not use a terminology tool in every translation project. I use MultiTerm, which comes with Trados Studio or can be used independently. In a series of upcoming blog posts, I'll look at using MultiTerm to:
Search a termbase within Trados Studio
Work with multiple termbases
Export a termbase from MultiTerm to MS Excel and to other formats
I'll also be adding blog posts on a variety of CPD resources for translators.
In the meantime, if you're keen to learn more about using MultiTerm, have a look at these previous blog posts:
How about you?
What are your favourite terminology resources? Do you have any good tips to share? I'd love to hear your thoughts in the comments below.
Please note that I do not have a commercial relationship with any of the people or organisations mentioned above.
By Jayne Fox BSc MITI, German-English translator.
For German-English medical translation – and translation of corporate communications.
You might also like: