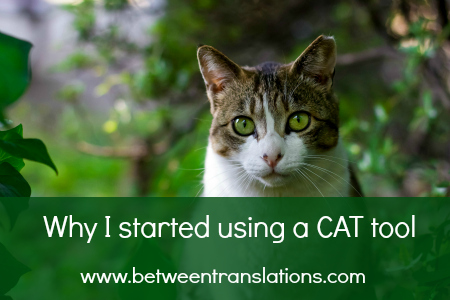 I've recently found myself very grateful for the translation memory and concordance that are part of the CAT (Computer-aided Translation)tool that I use. Thank goodness for that huge database of sentences I've translated before, giving me chunks of text to reuse for my clients' brochures and reports.
Do you use a CAT tool? Why/why not? Here's why I took the big leap a few years ago.
I used to translate in MS Word by typing the target text over the source text. I also kept a glossary for each client in Excel, to keep track of terminology. This worked fairly well for most texts, but my heart always sank a little when a client sent me a new brochure to be translated.
These texts were usually based on previous marketing materials – sometimes reusing big chunks, sometimes chopping and changing them around – and I would have to search through all the other brochures and website texts that I'd translated for that client before, to find the right sentences and keep everything consistent.
Of course, this took ages! But I couldn't really charge more just for finding and recycling previous work. Especially as I knew that, if I had translation memory software, reusing texts like this would actually be quicker, not more time consuming.
After a particularly difficult search-and-reuse job, I decided that I'd had enough. I was no longer going to spend my time searching for bits of text – it was time to give a CAT tool a try.
There were not so many CAT tools on the market at that time so I thought I would try Trados, which I knew was a popular tool. I bought and downloaded the software and set about reading through the user guides.
After a lot of reading, I set up a translation memory, imported all my previous translations and was ready for action. Trados 2007 was a bit of a pain to work with, but it did the job. And next time I had an updated brochure to translate, I flew through it!
I also found that the concordance can show you how you translated a particular word before (nice), and that integrated termbases show you which words are in your glossary, let you insert them straight into your text, and add new terms on the fly.
Since then I've upgraded to Trados Studio, which is SO much better, and I use it every working day. In fact I'm so keen on CAT tools that I have memoQ as well. Oh and of course, I blog about handy ways to to get the best out of them.
How about you? Have you shared the pain of search-and-reuse? Did it push you towards a CAT tool? Let me know in the comments below!

By Jayne Fox BSc MITI, German-English translator.
For German-English medical translation – and translation of corporate communications.
Photo: pixabay.com via pexels.com
You might also like: