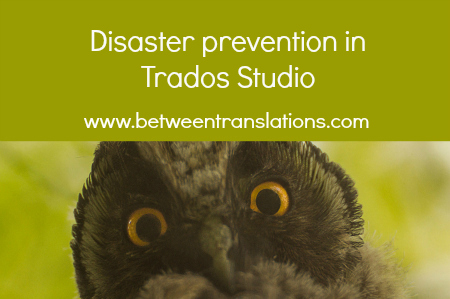 If you use Trados Studio, the last thing you want is an error when you're trying to create your target files. Being unable to generate the text that you're supposed to deliver in 45 minutes' time can really make you tear your hair out. Here are some tips to help prevent file-generating disaster.
1. Before you start translating: Save Target As…
When you set up your project in Trados Studio, before you start translating, click File and then click Save Target As… (or use Shift+F12).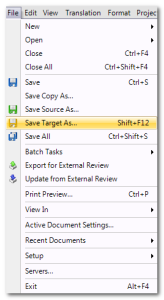 All going well, you'll be able to save the target file at this stage.
If you get errors and can't save the target document, the original file may be corrupt. Have a look at it and see if you can remove any formatting or save it in a different format (e.g. open the file in OpenOffice and then save in Word format). Then set up the project again.
If you still can't save the target file, see if your customer can supply the file in a different format.
I also use Save Target As… at the end of each day to generate the latest version of the target file. Sometimes I do this more often, for example, if the file has complex formatting that could possibly cause problems.
2. Display tags
If you can save the target file before you start translating, any further problems are likely to be caused by missing tags. To see all the tags in the document, on the Tools menu, click Options. On the Options dialogue box, click Editor in the window on the left. From the Formatting display style: dropdown list, select Show all formatting and tags and click OK.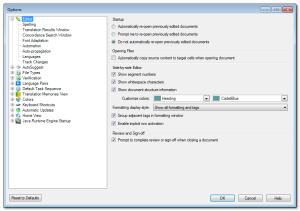 Back in the Editor view, have a look at these buttons, which you can use to view the tag text.

Being able to see the tag text can be handy for some projects.
3. Verify
Before generating the target files, always verify to check that there are no missing tags. To do this, click the Tools menu and click Verify, or press F8.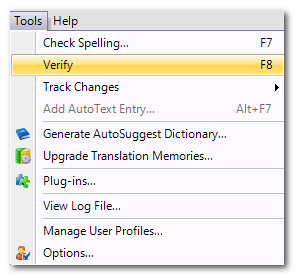 Verification will identify any tags that have been added, moved or deleted.
If you still can't generate the target file
If you've followed all these steps, you should be able to create the target file at the end of the project, either using Save Target As… or the Finalize batch task.
However, if disaster strikes and you can't generate the file, there are a few things you can try:
Close Trados Studio, shut down and restart your PC. If this doesn't work:
Use Open Document… to open the original document in Trados Studio again, using the translation memory from the project. The translation should propagate automatically. Try to Save Target As… again. Or:
If you didn't follow the original three steps above, set up the project again and run through them now.
I hope these steps help you keep your hair and your deadlines. Please add a comment below if you have any more disaster-prevention tips!
By Jayne Fox BSc MITI, German-English translator.
For German-English medical translation – and translation of corporate communications.
Owl photo: skitterphoto.com via pexels.com
You might also like: