…and how to make sure you pass.
Have you taken a NAATI test in translation or interpreting? Or are you thinking about it? Here's what Dave Deck from NAATI recently had to say about why candidates fail the test, and what stands out about those who pass.
Dave gave a presentation on NAATI test marking at the New Zealand Society of Translators and Interpreters' annual conference, which was held in Wellington in June 2015. In this blog post, I'll summarise his main points and look at how we can apply them.
What are the NAATI tests?
NAATI conducts tests for translators and interpreters in Australia and New Zealand. People who have passed the NAATI Professional interpreter or translator exam can apply for full membership of the New Zealand Society of Translators and Interpreters (NZSTI) or the Australian Institute of Interpreters and Translators (AUSIT). And if you have passed the NAATI Paraprofessional exam, you can apply for AUSIT membership or NZSTI affiliate status.
Translation is usually only tested at the Professional level. Candidates currently complete the exam using pen and paper, but NAATI is looking into the option of using a keyboard in future. Interpreting tests are offered at Professional and Paraprofessional levels, and the tests are pre-recorded. The tests also include a section on ethics for translators and interpreters.
How are NAATI tests marked?
The results of each test are determined by two markers, and wide discrepancies are resolved by a third marker. The tests are marked based on acceptable responses, not ideal solutions or what the examiners would have done. There is a strong emphasis on accuracy, to ensure that the content and intent is faithfully conveyed. The quality of language is mainly viewed in terms of how well it contributes to accuracy.
Why do people fail the tests?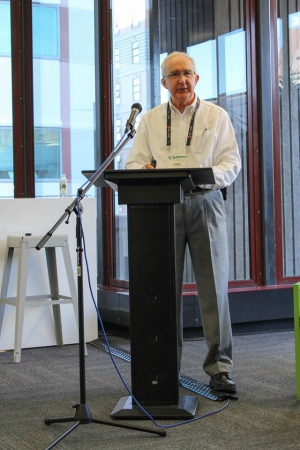 Dave explained that there are some particularly common reasons for failing the tests. The overall pass rate is very low, at about 10-15%. This is mainly because an overwhelming number of candidates are completely unprepared for the exam. Some only take the test to try to gain points for migration to Australia. Many assume that some degree of bilingualism is all that is needed.
In the translation exam, lack of proficiency in L2 (the individual's second language) is one of the main reasons for failure. Some candidates unwisely try to translate into their L2, which often results in their being unable to express complex ideas. When translating into their native language, another key reason for failing is misunderstanding the source text. Some people also have problems with technique, either translating over-literally or, less commonly, using unnecessary paraphrasing.
In the interpreting test, many candidates just don't have sufficient memory retention and listening skills, and rely too heavily on notes. A lack of skills in 'rapid transfer' of meaning from one language to the other is also common. Insufficient proficiency in L2 often leads to miscomprehension (when working from L2 to L1) and difficulty expressing complex ideas (when working from L1 to L2). An insufficient breadth of vocabulary is another problem, especially in specialised medical and legal registers.
What should you do if you're planning to take the NAATI test?
So, what can we take away from Dave's presentation? Test preparation is obviously crucial, and as professionals, we shouldn't be put off by the extremely low pass rates. If you're planning to take the NAATI exam, start preparing early and get as much practice as you possibly can. Do plenty of the practice tests that are available from NAATI and take a NAATI preparation course if one is available. Make sure you have sufficiently high proficiency in your L2 and increase your exposure to a broad range of fields in both languages.
Whether or not you're planning to take the NAATI tests, I hope you find Dave's feedback helpful. For me, it was interesting to reflect on common reasons for translation and interpreting errors and how to avoid them.
About Dave Deck
Dave Deck is a translator and interpreter for Indonesian and Malay and is chairman of NAATI's Indonesian/Malay and English examining panels. In 2005 and 2008, he was one of the co-authors of major revisions of NAATI's Examiners' Manual, and has since developed and run various examiner training workshops. He has also run workshops for translation and interpreting candidates at NAATI's Melbourne office and is a member of AUSIT's National Council.
Please note that I do not have a commercial relationship with any of the organisations mentioned above.
By Jayne Fox BSc MITI, German-English translator. For German-English medical translation – and translation of corporate communications.
Photo of Dave Deck by Sarah Wilson, photo of sky via Skitterphoto.
You might also like: