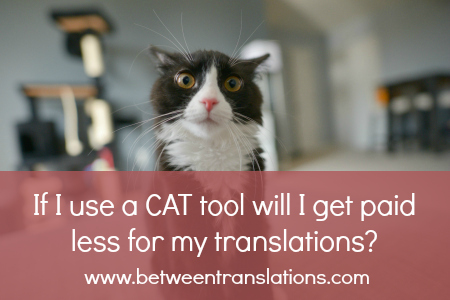 A few translators have told me recently that they're reluctant to buy a CAT* tool because they have heard that agencies pay less for your translations if you use one. That makes it sound like CAT tools are a very bad investment! So, is it true?
*CAT tool = Computer-aided Translation tool, also known as a Translation Environment tool (TEnT)
When put like that, it does sound bad – you pay for the software and then agencies demand that you give them a discount for matches with the translation memory that they supply. What's so good about that?
Well, that's certainly not why I bought a CAT tool. I prefer to use mine to save myself time and increase consistency in my translations. I find that the terminology and concordance features are a huge benefit and translation takes longer without them.
Percy Balemans has just published a great blog post on The Usefulness of CAT Tools, which gives some very good reasons for using them. I agree wholeheartedly – that's exactly how I use mine.
However, even though they're time-savers and can help you ensure consistency, should CAT tools be avoided because you'll get paid less for using them?
Well, many agencies that use CAT tools in-house will look for translators who use the same tools, and only pay reduced rates for text segments that match the translation memory. (A segment can be as short as one word but is usually longer – a heading or a whole sentence.) The rate that they offer may be around 60% for segments that are "fuzzy" (non-exact) matches, and up to 30% of the usual rate for exact matches and repetitions.
Some agencies may only offer 15% for exact matches, or even 0% in some cases. Not many translators would be happy with 0%, especially if fuzzy matches are discounted too – I remember it caused quite a stir when some of the less desirable agencies introduced this practice a few years ago. However, I do know one reputable agency that pays 100% for any kind of fuzzy match, and 0% for exact matches, which is a bit different to the usual graded discounts.
It's often the bigger agencies that ask for steep discounts for repetitions – but you don't have to work with those agencies just because you have a CAT tool. If you do choose to work with them, you can negotiate your rates for discounts, and if you don't have a CAT tool, they probably won't want to work with you.
There are many other customers who don't mind how you do your work and are happy to pay for the high-quality translations that you deliver. And if you find you can translate texts quicker if they include matches and repetitions, you can consider passing this benefit on to your customers.
(Note: if you use Trados Studio and are wondering how to take repetitions and matches into account when quoting for a job, this free online CAT weighting tool might be worth a look – here are the details on how it works.)
Overall, I don't think that translators need to avoid CAT tools and miss out on their benefits just because they think agencies will pay them less if they use one. If you have a CAT tool you can choose to work with agencies with this business model, and negotiate discounts for matches. If you don't have a CAT tool, those particular agencies might not be keen on working with you anyway.
By the way, if you're interested in learning more about the the business side of owning a CAT tool, eCPD Webinars are running a webinar on just that. It's aimed at "anyone who has, or is thinking of buying, a CAT tool and would like to know more about the business aspects of their use".
So what do you think? Are CAT tools a bad investment because you get paid less if you use them?
By Jayne Fox BSc MITI, German-English translator.
For German-English medical translation – and translation of corporate communications.
Photo: stock.tookapic.com via pexels.com
You might also like: