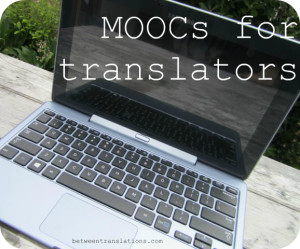 Have you seen the wide range of free online courses (Massive Open Online Courses or MOOCs) available these days? If not, you're in for a treat.
While a high level of expertise in our source and target languages is crucial for us as translators, we also need a strong understanding of our subject matter. There are many ways that we can develop this – including formal training, work experience, trade events and reading. Now that universities around the world are offering free courses online, MOOCs have given us another attractive way to increase our subject-matter expertise. Of course, no one can become an expert overnight, but we can use MOOCs as part of an overall learning plan to steadily work towards our goals.
My background is in physics, but I'm interested in biological sciences and have recently started two online courses in genetics. I'm learning a lot and am loving the MOOC experience. At first I worried that I might not have time to follow an online course, but I found that with some multitasking I can fit the study in.
The first MOOC that I started is Tales from the Genome, a self-paced course at Udacity, which is an offshoot of Stanford University in the US. I'm really enjoying the highly interactive format of the Udacity course, and especially like the live "Hangouts on Air" discussion sessions that they run each week.
This month I also started Useful Genetics at Coursera, which is a 6-week, college-level course. Coursera provides a platform for universities and organisations around the world to offer online courses. The MOOC that I'm doing, which is with the University of British Columbia in Canada, has a more traditional format than the Udacity course. The course content is a bit more complex and there are strict deadlines, which add pressure but can be quite motivating. As my other course is self-paced, I'm doing just a few hours a week with Udacity while I focus on the Coursera deadlines.
There are a number of other MOOC providers, including edX and FutureLearn, and together they offer a huge variety of courses. Thankfully, the MOOC List catalogues all of the MOOCs currently available. Most of the courses are delivered in English, but the MOOC List lets you search for courses in nine different languages. In fact, Coursera offers MOOCs in twelve languages, including Chinese, French, Russian and Spanish.
How about you, do you have any experience of MOOCs? Or are you keen to give one a try? Let me know in the comments below.
Please note that I do not have a commercial relationship with any of the organisations mentioned above.
By Jayne Fox BSc MITI, German-English translator.
For German-English medical translation – and translation of corporate communications.
You might also like: