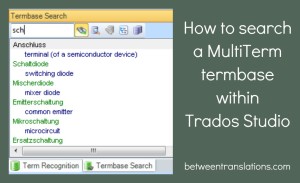 Do you translate using Trados Studio? Do you know how to search a MultiTerm termbase within Studio? Read on to learn more.
I'm a huge fan of terminology databases and use them for all my translation projects. I find that a good termbase helps me to translate faster, because it enables me to insert terms into my translation very easily. As well as storing complex terms, I also add frequently used terms to my termbase, to make sure that I'm using them consistently throughout my translation.
I agree with Jost Zetzsche's comment on the value of termbases, made during one of his recent webinars: "If I had to choose between giving up all of my translation memory data or all of my terminology data, I would always give up my translation memory data rather than my terminology data."
I use MultiTerm to manage my terminology in Trados Studio – let's have a look at how to do this.
Using MultiTerm in Trados Studio
To start off, you might need a refresher on using MultiTerm in Studio. Here are the details of how to:
You can follow these instructions in Trados Studio 2009, 2011 or 2014.
Searching MultiTerm within Trados Studio
Once you've added a termbase to your project, you can use term recognition to insert terms into your translation and add new terms to your termbase as you translate. You can also look up terms in the Termbase Search window:
1. In the Term Recognition window, click the Termbase Search tab.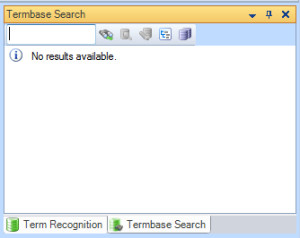 2. Enter the source term (or part of the term) that you want to look up in the Termbase Search field and click the Fuzzy Search icon.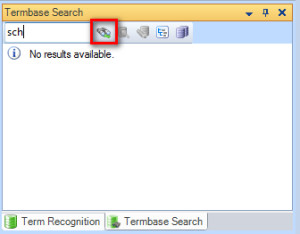 The search results display in the results window.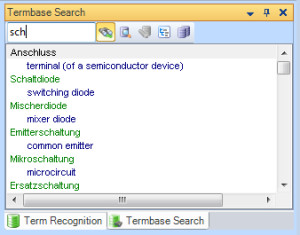 You may need to further refine your search if it returns a lot of results.
Troubleshooting
Sometimes I have trouble viewing terms in the Termbase Search window. Occasionally I find that searching for three or more letters works, but not just one or two. I also have some termbases that play up when I first search them in Studio – the results window just says "searching for terms". In this case, I can fix the problem by searching for just one letter. Once I've done that, I'm able to search for the term I'm looking for. I hope this helps if you have any trouble searching MultiTerm within Trados Studio.
More coming up
In future blog posts, I'll look at using MultiTerm to:
Work with multiple termbases
Export a termbase from MultiTerm to MS Excel and to other formats
I'll also be adding blog posts on a variety of CPD resources for translators.
How about you?
Do you use a terminology management tool in every project?
If you had to, would you rather give up your translation memory data or your terminology data?
And how easy do you find using MultiTerm in Trados Studio?
Let me know in the comments below!
Please note that I do not have a commercial relationship with any of the organisations mentioned above.
By Jayne Fox BSc MITI, German-English translator.
For German-English medical translation – and translation of corporate communications.
You might also like: