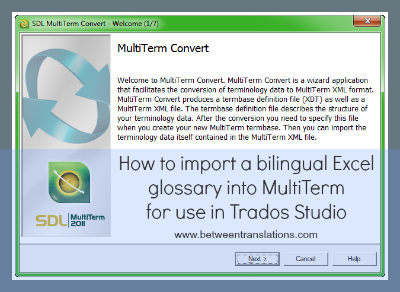 If you use Trados Studio, it's a good idea to learn how to use MultiTerm to manage your terminology.
For example, you might want to use terms from a bilingual Excel glossary when you're translating in Trados Studio. The PDF below shows how to use MultiTerm to do this.
(You might also want to look at: The quick way to convert glossaries and termbases between Excel and MultiTerm.)
The process might seem complicated and it takes a bit of time to set up your termbase initially – but once you've done it, it's very easy to use the termbase in multiple projects. Then you can use term recognition within Studio to speed up your translations and improve your translation quality and consistency.
Before you begin, you'll need to create a termbase in MultiTerm – there are instructions on how to do this here.
You can then follow the steps in the PDF below to convert and import a bilingual glossary from Excel.
I've explained the steps in MultiTerm2011 – and if you have the 2009 or 2014 version, the steps are almost identical, so you'll still be able to follow them.
How to import a bilingual Excel glossary into MultiTerm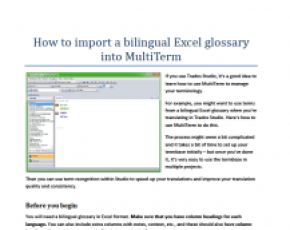 Next, you might want to learn how to add the termbase to a project in Trados Studio, use term recognition to insert terms into your translation, and add new terms to your termbase as you translate.
By Jayne Fox BSc MITI, German-English translator.
For German-English medical translation – and translation of corporate communications.
You might also like: