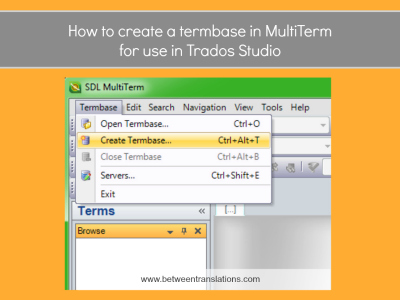 If you translate using Trados, it's well worth the effort to learn how to use MultiTerm to manage your terminology. It can help you to translate faster and increase the consistency and quality of your translations.
To make the most of MultiTerm, you'll need to learn how to:
This might seem like a lot, but if you're already using Trados, learning MultiTerm will definitely make a difference to your translations.
In this post I'll look at how to create a specific kind of termbase in MultiTerm: a bilingual glossary. I'll explain the steps in MultiTerm2011 – and if you have the 2009 version, the steps are almost identical, so you'll still be able to follow them. Then I'll look at the other procedures in future posts.
(You might also want to look at: The quick way to convert glossaries and termbases between Excel and MultiTerm.)
When should you create a termbase in MultiTerm?
You might need to create a bilingual glossary termbase for a particular client. You can then use this termbase within Trados Studio for all of the projects you translate for them.
You may also want to create your own default termbase for frequently used terms, or terms related to a specialist field. Or you might need to create a termbase so that you can import terms into it from a glossary in Excel.
The steps: how to create a bilingual glossary termbase in MultiTerm
1. Start the MultiTerm Desktop application. You'll find it on the Start menu under All Programs / SDL / SDL MultiTerm.
Note: If you've purchased Trados Studio but can't find a folder for MultiTerm, it could be that you haven't downloaded it yet. Log on to your SDL account and download it from there. (This will take a while!)
2. On the Termbase menu, click Create Termbase.
The Save New Termbase dialog box displays.
3. Select the folder where you want to save the new termbase, enter a file name, and click Save.
The Termbase Wizard screen displays.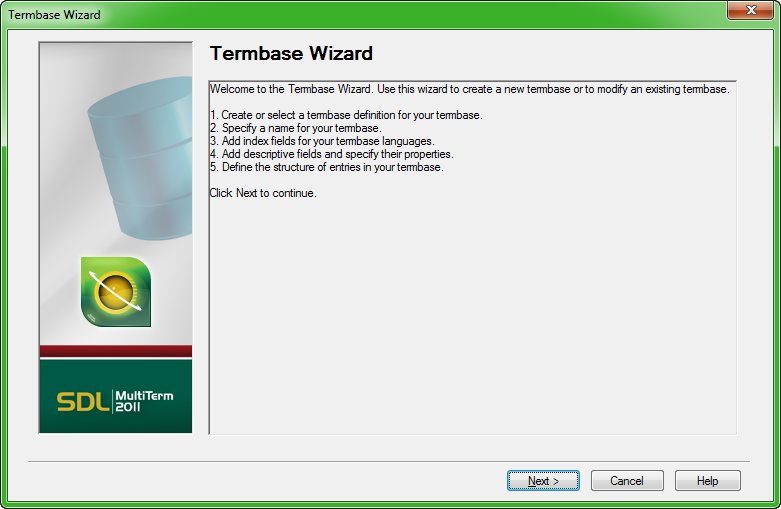 4. Click Next. The Termbase Definition screen displays.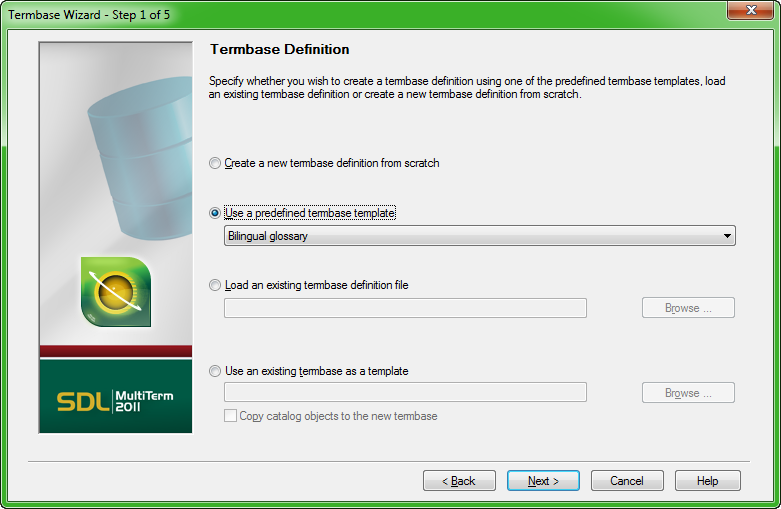 5. Select Use a predefined termbase template and then click Next.
Note: the default selection is to create a new termbase definition from scratch. Don't try this yet – it's much easier to use the predefined bilingual glossary template instead. There's also a predefined multilingual termbase template, which you can use if you have terms in more than two languages.
The Termbase Name screen displays.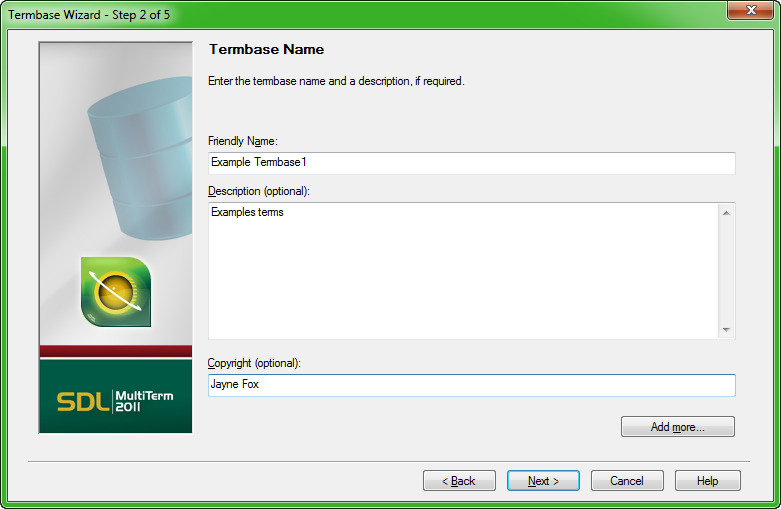 6. Enter a name, description and any copyright details for the termbase, and click Next. The Index Fields screen displays.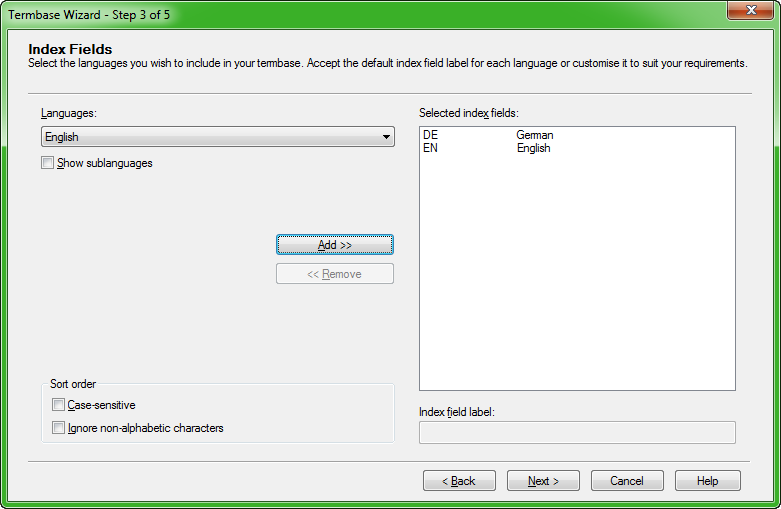 7. Check that the languages in the Selected index fields box are the ones that you require. To add a language, select the language from the Languages dropdown list and click Add. To remove a language, select the language in the Selected index fields box and click Remove. When the languages are as required, click Next.
The Descriptive Fields screen displays.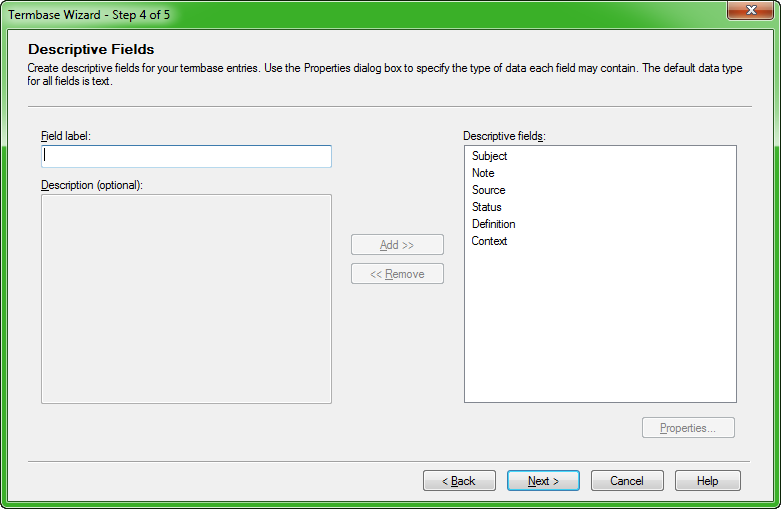 8. Click Next.
Note: You don't need to change anything on this screen. You'll be able to add descriptions to the terms in your termbase in these fields.
The Entry Structure screen displays.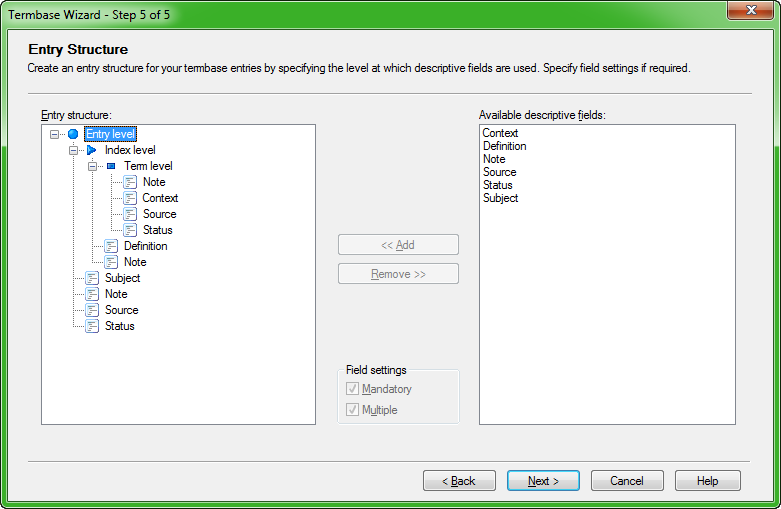 9. Click Next.
Note: Again, you don't need to change anything on this screen.
The Wizard Complete screen displays.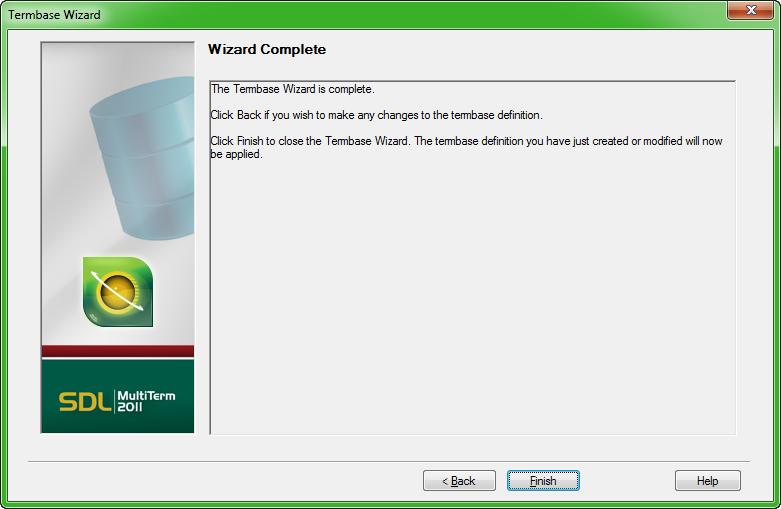 10. Click Finish. The new termbase is now open in MultiTerm.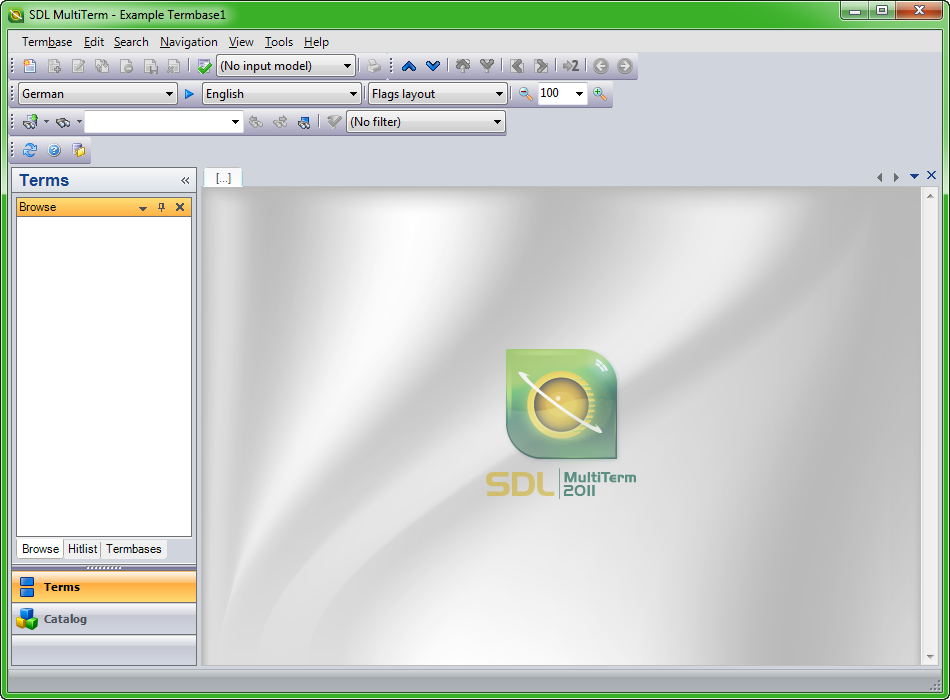 What happens next:
You now have a shiny new termbase, ready for you to add terms and use for term recognition during translation. This may seem like a long process, but you only need to set up the termbase once and then you can start using it.
Next you can either convert and import a glossary from Excel, or add the termbase to a project and add new terms within Trados Studio. I'll explain how to do this in future posts.
By Jayne Fox BSc MITI, German-English translator.
For German-English medical translation – and translation of corporate communications.
You might also like: