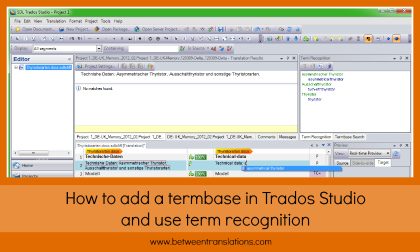 If you translate using Trados Studio, it's very useful to know how to use MultiTerm to manage your terminology. It can help you translate faster and make the terminology in your translations more consistent.
In recent posts I've explained how to create a termbase in MultiTerm and how to import terms from an Excel glossary. (You might also want to look at: The quick way to convert glossaries and termbases between Excel and MultiTerm.)
Once you've done this, you can add your termbase in Trados Studio and use term recognition to insert terms into your translation.
The process is very simple and is described in detail in the PDF below. Have a look through the steps and you'll see how easy it is to do this.
How to add a termbase in Trados Studio and use term recognition
What else can you do with your termbase?
While you're translating within Trados Studio, you can search your termbase and add new terms. You can also add multiple termbases when you're setting up a project, or to a project template. I'll explain how to do this in future blog posts.
By Jayne Fox BSc MITI, German-English translator.
For German-English medical translation – and translation of corporate communications.
You might also like: