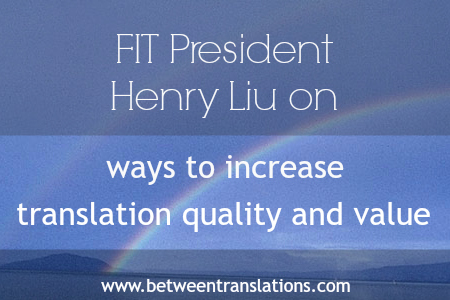 How can we ensure that our work is not viewed as a commodity? What practical steps can we take to demonstrate the value of our work to our clients? And how can we increase the quality that we provide?
These questions were among the topics tackled by Dr Henry Liu in his presentation in Wellington, New Zealand on 17 October 2014, entitled "Cadillac vs. Chevy, what are translators and interpreters missing?"
As the President of the International Federation of Translators (FIT) and former President of the New Zealand Society of Translators and Interpreters, Henry shared his considerable skills and expertise with the packed room full of translation and interpreting professionals.
Are translators interchangeable?
Getting quickly down to business, Henry began by examining why translation is viewed in some quarters as a commodity. The key issue here is whether translators are interchangeable. If one translator is easily replaced with another, and both are paid by the word, the main differentiating factor will be price.
If you only want to get from A to B, why pay for a Cadillac when a Chevy will do? In this environment, competition is high and prices will be low – and translators are unlikely to be happy.
The future of the profession
Before looking at ways to address this problem, Henry first discussed the future of translation and interpreting. While a quick show of hands indicated that expectations for the future were positive, we were also aware of the looming threats to our profession.
Translators have already been replaced by machines in some parts of the market, and Google Interpret is less than 5 years away. As well as increasing public use of Google Translate (for travel, communication with visitors and foreign workers, etc.), the rise of English as a second language means many organisations are thinking twice about hiring translators and interpreters. As technology and increases in efficiency make numerous goods and services cheaper, the perceived, relative cost of translation and interpreting rises.
Significant opportunities
However, it is not all doom and gloom. On the positive side, translation volumes are higher than ever before, and our markets are expanding. There are significant opportunities to work in niche markets, and native English speakers are in demand. Localisation is another growing field, with greater awareness among international companies of the need for market-specific communication.
Quality and value
So, how can we work around the issues and turn the opportunities to our advantage? A solution put forward by Henry was to communicate the quality that we provide in a way that raises its perceived value. A much-pondered problem with this is the difficulty in defining translation quality. Henry's suggestion was that, from the client's point of view, quality is what meets the client's needs – which may not necessarily be in in line with our own standards.
Specification mismatch
Henry explained that there are some companies that care about quality and are happy to pay for it. In the diagram he presented, with quality on the horizontal (x) axis and the number of clients on the vertical (y) axis, these companies are represented by the blue curve on the far right. Then there are companies that do not care so much about quality and do not want to pay for it. These clients are represented by the red curve on the left.
The problem is that most of the work that we deliver is in the middle of the quality scale (the green curve) – whereas the majority of clients fall at one end or the other, wanting higher or lower quality than that which we provide. So, according to Henry, our work is often over spec, and sometimes under spec.
Not a commodity?
Henry went on to discuss value, which he defined as what the client is willing to pay. Like quality, value is subjective. When our work is seen as a commodity, its value falls. So how can we address this? One way is to change the unit of billing. Rather than charging by the word or the hour, we should consider negotiating fees per project. High-profile, high-stakes projects are higher risk for the translator or interpreter, and this can be reflected in the fee.
How clients judge quality
Another interesting point was the fact that non-translators cannot accurately assess translation competency. But of course, they can judge – or misjudge, based on what Henry called "surrogate markers". These may include factors such as punctuality, the impression you give or the spelling in your email. As well as being competent, we also need to be perceived as competent. Mastering these markers can help ensure that our clients value the quality we provide.
Improving our market position
What can we do to ensure that our work is highly valued? Well, as Henry explained, niche matters. We can learn rare languages, or undertake dual training to become both a translator/interpreter and subject-matter expert. Many professionals with dual training find it easier to attract clients and command higher fees. Henry encouraged aspiring practitioners to bear this in mind, as well as looking for an apprenticeship after graduation or finding a mentor.
For practicing translators, Henry recommended honing our copywriting skills and working with specialist editors. He emphasised the importance of visibility, especially regular, face-to-face contact with clients, and the need to work to clients' specifications. Henry also urged us to keep abreast with developments in technology and make these work for us.
For interpreters, Henry suggested reading and listening widely, following the news in each of your languages, and looking into additional training in speech and drama. Dressing professionally is key, and he also recommended recording your interpreting when possible. This can provide useful feedback on how you sound and your skill level, and can help you smooth out your accent.
How about you?
I found Henry's advice very practical and am planning how best to apply his ideas to my work.
And how about you? Do you agree with Henry's take on translation quality and value? Do you have any other suggestions to ensure our work is not viewed as a commodity? Let me know in the comments below.
About Henry Liu
Henry Liu is the President of the International Federation of Translators (FIT) and a former National President of the New Zealand Society of Translators and Interpreters. A consultant interpreter in English, Chinese and French specialising in legal and diplomatic interpreting, he has interpreted at the highest professional level for heads of state and other dignitaries. Henry has also advised government departments on interpreting and translation policy, access and quality issues. He is a member of the New Zealand Cross Bench Committee on Legal Interpreting and was appointed by the Chief Justice of New Zealand as Special Advisor to the Chief Justice in 2012.
By Jayne Fox BSc MITI, German-English translator. 
For German-English medical translation – and translation of corporate communications.
You might also like: