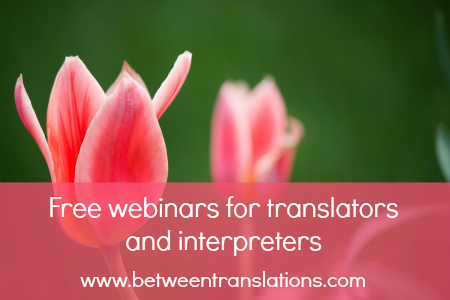 There are some great, free webinars available for translators and interpreters, offering food for thought and professional development on a zero budget. Here's a list of some of the options, including a few that were mentioned in recent discussions in the IAPTI and NZSTI online forums.
This free webinar is a good introduction to continuing professional development (CPD) and how it can help you to develop your career.
This video is of Prof. Mona Baker's keynote lecture in Geneva, Switzerland in 2011. There are a number of other very interesting videos on the Translation Studies Portal, which is managed by Mona Baker and Sofia Malamatidou. Thanks to IAPTI for letting me know about these.
Judy Jenner presents this SDL webinar, which is free to download once you've entered a few details. It focuses on the five habits of highly successful translators and discusses customer service habits in particular.
This is another webinar by Judy Jenner for SDL, and is coming up on 25 July 2013. It will look at conflict and resolution, tricky situations and unreasonable customers.
Eve Bodeux and Corinne McKay have recorded a series of podcasts and conference calls on topics of interest to freelance translators. These free recordings cover a wide range of subjects, including finding direct clients through industry conferences, translation technology and sabbaticals abroad.
This is a recording of a presentation by Marta Stelmaszak at the Traduemprende conference on Translation and Entrepreneurship held in Madrid in 2013. Marta's presentation focuses on how to gain and work with translation clients. Video copyright: http://www.residencia.csic.es/
This webinar is available for a suggested donation of €5 to the International Childcare Trust. It covers the many marketing communication tools that translators and agencies can use to create a business communications plan.
SDL offer a variety of recorded webinars on how to use SDL products, as well as webinars on business aspects of translation. There are also a number of SDL Trados Studio Video Guides available on YouTube.
Kilgray provide a 10-lesson online course on the translation functionality in memoQ. This is free if you have a valid memoQ license. They also offer regular webinars on their translation products.
Please note that I do not have a commercial relationship with any of the above companies or individuals.
How about you – can you recommend any free webinars for translators or interpreters? Add your comments below!
By Jayne Fox BSc MITI, German-English translator.
For German-English medical translation – and translation of corporate communications.
Photo: unsplash.com via pexels.com
You might also like: