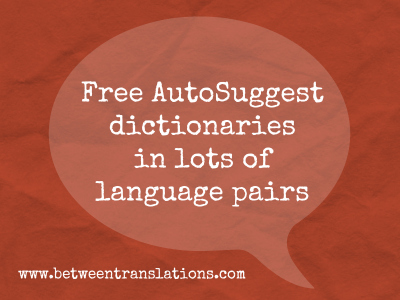 Did you know that there are free AutoSuggest dictionaries that you can download for Trados Studio?
An AutoSuggest dictionary can help you to translate faster in Trados Studio. It contains words and phrases extracted from a translation memory and can provide you with AutoSuggest suggestions while you are typing.
Once you have typed the first few characters of a word, AutoSuggest gives you a list of words in the dictionary that start with those characters. If the word that you need displays, you can select it from the list.
You can create your own AutoSuggest dictionary from a translation memory that has at least 25,000 translation units. If your translation memory does not have this many translation units, you can download one of the free AutoSuggest dictionaries from SDL if there is one available in your language pair:
European Union AutoSuggest dictionaries:
English US > German, English US > Italian, English US > French, English US > Spanish
You can also download AutoSuggest dictionaries shared by users in the following language pairs:
European Union AutoSuggest dictionaries:
English GB > Italian, Italian > German, English > Czech
Other AutoSuggest dictionaries:
English > Portuguese, Portuguese > English
Italian > Czech, German > Czech, Spanish > Czech
Polish > English, English > Polish
English > Swedish, Danish > Swedish
English > Slovak
English (New Zealand) > Korean
By Jayne Fox BSc MITI, German-English translator.
For German-English medical translation – and translation of corporate communications.
You might also like: