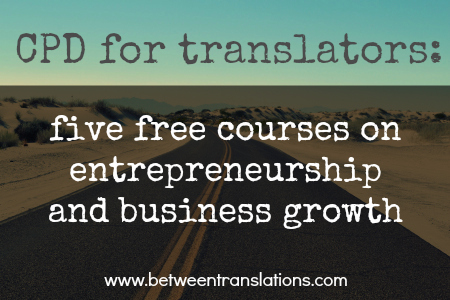 Freelance translators are entrepreneurs. And all translators need to be able to think like their clients. These are two good reasons why learning about entrepreneurship and business growth is an excellent idea for translators working with startups – and translators looking to get ahead.
In a recent survey by the UK Institute of Translation and Interpreting, more than 80% of respondents said they would like to improve their subject-matter knowledge through CPD training. Luckily for us, we now have access to hundreds of free online courses on a very wide range of subjects. The only problem is – where to start?
I've participated in a number of Massive Open Online Courses (MOOCs) over the last year and can highly recommend the format as a platform for online learning. I complete at least one course per term and am slowly expanding my collection of certificates.
In a series of upcoming blog posts, I'll be looking at MOOCs on various topics of interest to translators.
A few of the courses are self-paced so you can start at any time, and others start on a particular date. If you've missed the start date but the course is still running, you can sign up and view the course materials, or if the course has finished, you can "watch" it to be notified of future sessions.
To start us off, here are five free courses on entrepreneurship and business growth. Although I haven't yet done these myself, they're all on my watch list and come highly recommended by colleagues I met through another online business course (which I'll tell you about in my next post!)
Udacity
1 month, 6 hours per week
Self-paced, start at any time
This course takes you through the key steps needed to build a startup, encouraging you to get out of the building and find out what your customers really want. It covers the basics of taking an idea from conception to the marketplace, including business models, engaging with customers, gathering feedback and calculating costs.
University of Maryland (Coursera)
6 weeks, 5-7 hours per week
Current session started 8 September 2014, watch for future sessions
On this course you'll learn to take an idea, develop an appropriate business model and build a strong company. The focus is on developing an entrepreneurial perspective and mindset, understanding your customers and planning your business.
Case Western Reserve University (Coursera)
6 weeks, 2-3 hours per week
Next session: 3 October 2014
Interestingly, this course looks at growing companies outside of well-developed entrepreneurial ecosystems like Silicon Valley. It explores models that support new businesses in transitioning markets, where entrepreneurs don't have much access to private-sector financing.
University of Virginia, Darden School of Business (Coursera)
5 weeks, 4-6 hours per week
Next session: 20 October 2014
The Grow to Greatness courses focus on the challenges faced by growing businesses. I've heard lots of good feedback on this series so it sounds like it's worth checking out.
Rather than looking at the initial startup phase, the first course helps you plan and manage business growth.
University of Virginia, Darden School of Business (Coursera)
5 weeks, 4-6 hours per week
Next session: 12 January 2015
The second course in this series explores the kind of leadership, culture and people that businesses need in order to grow. The idea is to learn from others' experience, so that you don't have to "reinvent the wheel".
That's all the MOOCs I have for you today. Do any of them sound tempting? I hope so, and if not, I'll be looking at some more courses that can help us develop as translators in the next few posts.
Let me know
Do you use online courses to develop understanding of your subject matter? Which courses can you recommend? What other topics would you be interested in learning more about? I'd love to hear your thoughts – let me know in the comments below.
Please note that I do not have a commercial relationship with any of the organisations mentioned above.
By Jayne Fox BSc MITI, German-English translator. 
For German-English medical translation – and translation of corporate communications.
You might also like: