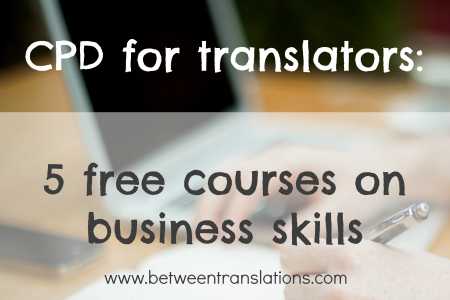 Most freelance translators work on commercial texts of some kind – whether through agencies or directly for corporate clients. And as independent professionals, we also run our own businesses.
However, not many translators have had the chance to study business skills and concepts, like marketing, organisational strategy and business analysis. So we may not be quite as on-the-ball, business-wise, as we would like.
Luckily for us, there are some excellent free courses that can help increase our understanding of the concepts and strategies behind corporate texts, and improve our skills in running our own businesses.
Some of these courses are self-paced so you can start at any time, and others start on a particular date. If you've missed the start date but the course is still running, you can sign up and view the course materials, or if the course has finished, you can "watch" it to be notified of future sessions.
Here are five of the best, free online courses on business skills.
University of Pennsylvania, Wharton School of Business (Coursera)
9 weeks, 5–6 hours per week
Current session: 14 October – 28 December 2014
I took this course last time it ran and found it both useful and fascinating. Wharton is ranked as the world-leading marketing department for business studies, so it's quite a privilege to be able to learn from the experts for free.
The course focuses on branding, customer centricity and market strategies. The video lectures make interesting viewing and there are lots of good examples of successful marketing strategies. I'd recommend this course to any translator interested in improving their own marketing.
University of Virginia, Darden School of Business (Coursera)
7 weeks, 5–6 hours per week
Current session: 6 October – 24 November 2014
This course was recommended by colleagues on the Introduction to Marketing course. It covers core MBA topics in business strategy and provides tools for strategic analysis of your particular industry. You can then apply what you learn to analyse your market and decide how best to position yourself.
This course would be useful for translators wanting to think more strategically about their business and the markets in which they work. It's on my watch list!
University of Pennsylvania, Wharton School of Business (Coursera)
8 weeks, 5–7 hours per week
Current session: 29 September – 24 November 2014
This is another course from the Wharton School of Business, who run the Introduction to Marketing. It also comes recommended, although some people have found it a bit dry. The course covers more MBA topics including analysing and improving business processes. While these supply chain considerations are not directly relevant to translators working alone, you can definitely learn some useful business concepts and terminology from the course.
Stanford University (Coursera)
Self-paced
This course introduces a different organisational theory in each module, which you then apply to a particular organisation. Using these tools and approaches, you can decide what each organisation should do to achieve its goals. The case studies are quite challenging and cover a wide variety of situations, from schools and political systems to technology companies. This course is also highly recommended for anyone interested in MBA skills, including translators who want to deepen their understanding of business terms and concepts.
University of Virginia, Darden School of Business (Coursera)
Self-paced
Corporate responsibility is an important focus for businesses right now. This course looks at how businesses can operate responsibly and sustainably within society, making money while also making the world a better place. It would be interesting for translators working in the fields of corporate communications, social responsibility and philanthropy, social enterprise and the environment.
Let me know
Have you participated in any MOOCs on business topics? Which ones can you recommend? I'd be keen to hear your thoughts – let me know in the comments below.
Please note that I do not have a commercial relationship with any of the organisations mentioned above.
By Jayne Fox BSc MITI, German-English translator. 
For German-English medical translation – and translation of corporate communications.
You might also like: