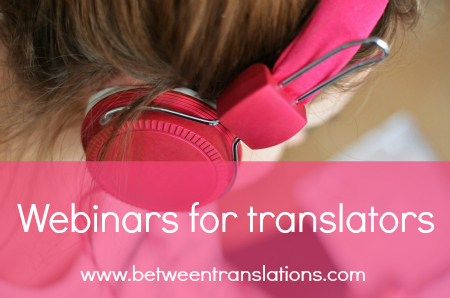 Are you looking for ways to increase your knowledge and skills as a translator? Or would you like to learn about best practices from specialist translators and well-known experts? There are lots of webinars that can provide excellent continuing professional development (CPD) for translators. Here is a selection of what is available.
Live and recorded webinars
Most webinar providers offer both live and recorded webinars. You can sign up for a future (live) webinar, and may be able to browse the library of recorded webinars and buy the ones you want to view. If you've paid for a live webinar and are unable to attend the session, some providers will send you a link to listen to the recording afterwards. (This is not available for all webinars, so you will need to check with the provider first.)
eCPD Webinars offers a wide variety of live and recorded webinars for translators and other language professionals. As well as a huge range of one-off sessions, they also have some modular training courses on various topics, such as business skills and technical translation.
Webinars I've viewed: I've enjoyed the webinars on medical translation by Karin Band, and have also signed up for a webinar on translating for the water and wind power industries.
The International Association of Professional Translators and Interpreters regularly offers webinars on interesting topics by well-known presenters. Prices vary – some are free for members, and a few are free for non-members too. The association is run by volunteers so the website is not as flash as the commercial providers, but the registration process has recently been streamlined and the GoToMeeting platform is easy to use.
Webinars I'm viewing: I'm looking forward to the webinar on debunking computer-aided translation (CAT) tool myths by Kevin Lossner.
The Alexandria Library has a number of live and recorded webinars in various languages, including English, German, Dutch and Portuguese. Topics include business skills for translators, building your online presence and medical translation.
Webinars I've viewed: I watched an Alexandria Library webinar in German about ProZ.com profiles and social networking for translators. This was only available by signing up in advance and is not in their recorded webinars.
Update: as of March 2016, the Alexandria Library is no longer trading.
ProZ.com runs a lot of webinars for translators and interpreters, including training courses for SDL certification.
Webinars I've viewed: I did the SDL Trados Studio 2011 course and passed the certification exam (which was pretty difficult!)
Other professional associations
Some of the other professional associations for translators and interpreters also offer webinars. Have a look at the ATA, BDÜ, DVÜD or your national translators' association website to see what is available. If you are an ITI member, you could join the ITI International Network's free webinar/online get-together at the end of April – email iti.international.network@gmail.com for details.
Short of cash?
If your budget is limited, here is a list of good, free webinars and recordings for translators. Tess Whitty also has some excellent podcasts for translators at http://marketingtipsfortranslators.com/ – be sure to check them out.
Or need something more?
Alternatively, if you've got a bit more time, it's worth looking into the wide range of mainly free online courses that offer excellent CPD for translators, available through Coursera, edX and other providers.
More coming up
In future blog posts, I'll look at some more CPD resources for translators, explain how to do some handy things in MultiTerm, and discuss changes in the translation industry.
How about you?
Do you use webinars for your professional development as a translator? Are there any other providers you can recommend? Let me know in the comments below!
Please note that I do not have a commercial relationship with any of the organisations mentioned above.
By Jayne Fox BSc MITI, German-English translator. 
For German-English medical translation – and translation of corporate communications.
Photo: www.pexels.com
You might also like: