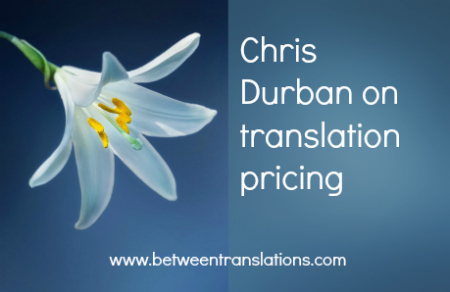 Are you unsure about how to price your translation services? Chris Durban shared her valuable insights on this thorny topic in her presentation on 'Pricing issues in translation: is this where you want to be?' for the New Zealand Society of Translators and Interpreters in January 2016. Here's a round-up of the key points from her presentation.
Chris began by explaining that she never makes recommendations on translation prices, but is happy to share examples of actual prices observed for specific translation projects. In conversations with translators on pricing, she's noticed that although many translators recommend aiming high, discussions often digress to issues of work-life balance and why money isn't everything – and wind up with the reassurance that actually, it's perfectly okay to aim low.
In Chris's view, higher prices are desirable because they allow you to take the time you need to produce excellent work. Your top-quality translations then become a reference for you, attracting more clients and more interesting work, in a form of virtuous circle.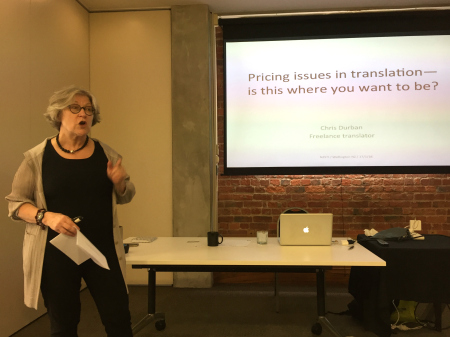 Bulk and premium markets
But are there really clients who are willing to pay more for higher quality work? In answer to this question, Chris described the split between bulk and premium markets, comparing the fast turnaround times and low pricing in the bulk market with the more highly paid and higher risk work in the premium sector.
One question translators should ask themselves when considering working in the premium market is: How good is my work? Chris thinks that some translators may need to be more nervous about this. She asked us how we know that our work is good, and what our clients think of our translations. Her point was that just because clients have never complained, or keep coming back, doesn't necessarily mean that they're happy. In fact, they may be actively searching for someone better. To be sure that our translations are as good as they should be, it's essential that we get feedback on our work.
How can translators increase their earnings?
Chris often hears translators saying they can't charge any more than a certain amount, which they state is the price in their market. She disagrees and suggests that there is no fixed price, but rather a wide range of prices from the bulk to the premium segments. If translators really want to earn more, she recommends they improve their skills and work towards specialising in a high-risk field like defence, security or crisis communications, to name but a few. Important, high-prestige texts such as Chairman's speeches can be another well-paying area.
Won't clients just go to a cheap translation agency?
Another reason that translators give for their own low pricing is that they can't charge more than their local translation agency. Chris turns this around – she wonders why expert translators should be less expensive than an agency, and asks: why would you want clients who are looking for cheap translators?
How can you calculate what to charge?
The stereotypical translator is good with words (of course) but not so hot with numbers. However, to make sure you're earning enough, you need to get over your aversion to figures and take time to do the maths. Work out how much you need to earn per hour, and use this as the basis for your minimum pricing. Rather than quoting a per-word rate, consider project prices, which may be more credible to your clients.
To help us calculate what to charge, Chris quoted Seth Godin's wise advice on freelancer pricing: "Successful freelancers need to charge at least double the hourly rate that they'd be happy earning doing full time work. (In many fields, it's more like 4 or 5x). And they need to spend at least half their time getting better at their craft (and helping the market understand and appreciate what they do)."
Work together with other translators
Another key point from Chris was that other translators are not necessarily our competitors. In fact, they may be potential collaboration partners. Chris recommends translation conferences as a good way to meet other translators in your field, either in your language pair or in complementary pairs that clients may also need. Try to find a colleague who can review your work – someone who will catch your mistakes and keep you continually improving.
Go outside
Chris also told us in no uncertain terms to "get out of your cave" and meet target clients and other people working in our specialist fields. Go to local events, participate in industry training courses and get used to talking to clients about their activities and needs.
And don't forget that you can also build relationships online, through LinkedIn groups and professional associations in your specialist fields.
What did I take away from the presentation?
I've been an avid reader of Chris's advice and insights for a few years, so most of what she covered wasn't new to me. But it was a privilege to see Chris in person once again, listen to her stories and be inspired by her passion and enthusiasm. I found her presentation a useful reminder to keep learning, keep connecting with others, and keep doing my best possible work.
About Chris Durban
Chris Durban is a freelance translator and speaker based in Paris. She is the author of Translation: Getting it Right, The Prosperous Translator and co-author of 101 Things a Translator Needs to Know. You can find details of her upcoming events for translators at chrisdurbanblog.com.
By Jayne Fox BSc MITI, German-English translator. For German-English medical translation – and translation of corporate communications.
Photos of Chris's presentation by Jayne Fox.
Photo of lily by pixabay.com.
You might also like: