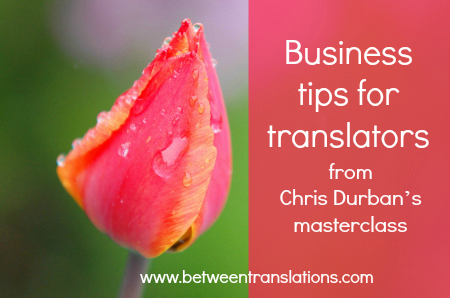 I was delighted to be able to attend Chris Durban's inaugural Business Acceleration Masterclass for Translators and Interpreters in Wellington, New Zealand last month. Here are a few of the tips for moving up a gear that Chris passed on to our small group of keen participants.
Chris covered the basics of her message in her shorter presentation for the New Zealand Society of Translators and Interpreters, which you can read about here. In her longer masterclass, she went into each point in greater depth and added lots of practical examples that participants could adapt and use for themselves.
So what can translators do to get ahead? If you've been following Chris's work, you probably won't be surprised to hear her number-one business tip, namely: if you really want to build your translation business, work to become a better translator.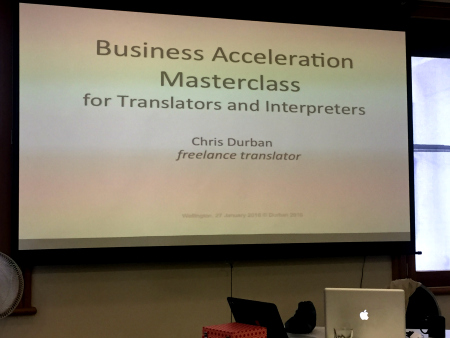 One thing that stood out for me here was the advice to collaborate daily with colleagues and work with a reviser. Personally, I've found working together with colleagues to be the best way to improve my translation and writing skills. I don't collaborate on all of my projects, but am working towards this aim.
As an interesting example, Chris shared several translations collected in a recent 'mystery shopper' experiment that was discussed by Tony Parr on LinkedIn. Being as bad as he described, these supposedly professional-quality translations certainly gave us food for thought. Each of the five suppliers sincerely thought they were delivering a top-quality job, so was this Dunning-Kruger at work, simple complacency or failure to keep up essential skills?
Of course, Chris also emphasised the need for translators to enhance their subject-matter skills, quoting her colleague Kevin Hendzel on the topic: "While bulk-market translators' heads are buried in dictionaries, premium market translators are buried inside their clients' heads." In other words, to do our best work, we need to develop and maintain a deep understanding of our specialist fields and keep our fingers on the pulse of issues that shape our clients' worlds.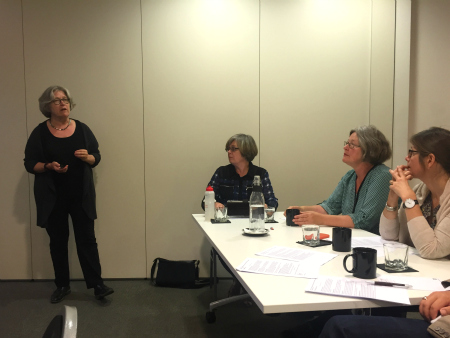 Chris discussed some specific ways to continually improve our subject-matter skills, before moving on to the main focus of the masterclass: finding passionate clients (with suitably healthy budgets). She went into detail about what kind of clients to approach, as well as how and when to approach them.
What I found most useful here was Chris's advice about 'doing your homework': understanding the big picture in your clients' industry, reading business papers and specialist publications, and researching potential clients. While I love to read, my reading is probably not targeted enough at the moment and my research could be much more client-specific. This is definitely something I'll be working on this year.
Chris also shared lots of workable examples of how to talk to potential clients about their business, before smoothly moving the conversation around to the topic of translation. Her story about chatting to fig growers about their work while skilfully scoping out their English marketing needs was truly inspirational.
I came away from the masterclass with a long list of points to put into practice over the coming months. With it being the first event in the series, Chris also asked us for feedback to help improve future sessions. I recommended more exercises to really involve participants – in fact, Chris has planned two more for the next masterclass. I think some structured time to reflect at the end or after the event would also be useful, so that participants can formalise their aims in response to what they've learned.
For me, writing this review has been a good exercise in organising my learning and developing my own action plan. I've already started making some changes in my reading and research, and will continue to build Chris's suggestions into my professional practice.
About Chris Durban
Chris Durban is a freelance translator and speaker based in Paris. She is the author of Translation: Getting it Right, The Prosperous Translator and co-author of 101 Things a Translator Needs to Know. You can find details of her upcoming events for translators at chrisdurbanblog.com.
By Jayne Fox BSc MITI, German-English translator. For German-English medical translation – and translation of corporate communications.
Photos of masterclass by Jayne Fox, tulip photo by Sergee Bee via unsplash.com.
You might also like: