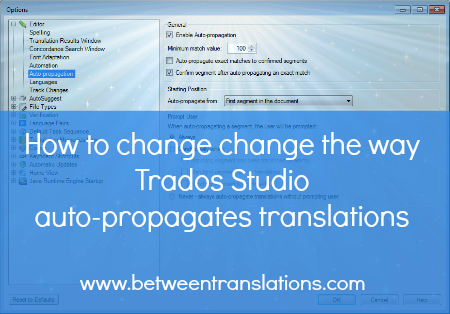 Have you ever wanted to turn off auto-propagation in Trados Studio? Or check segments before they're auto-propagated? Or do you find that auto-propagation of numbers is slow?
Thankfully, it's easy to change the auto-propagation settings to handle these and other situations. Here's how:
On the Tools menu, click Options. The Options window displays.
In the window on the left, click the plus sign nexto Editor to expand the options. Click Auto-propagation. The General screen displays on the right.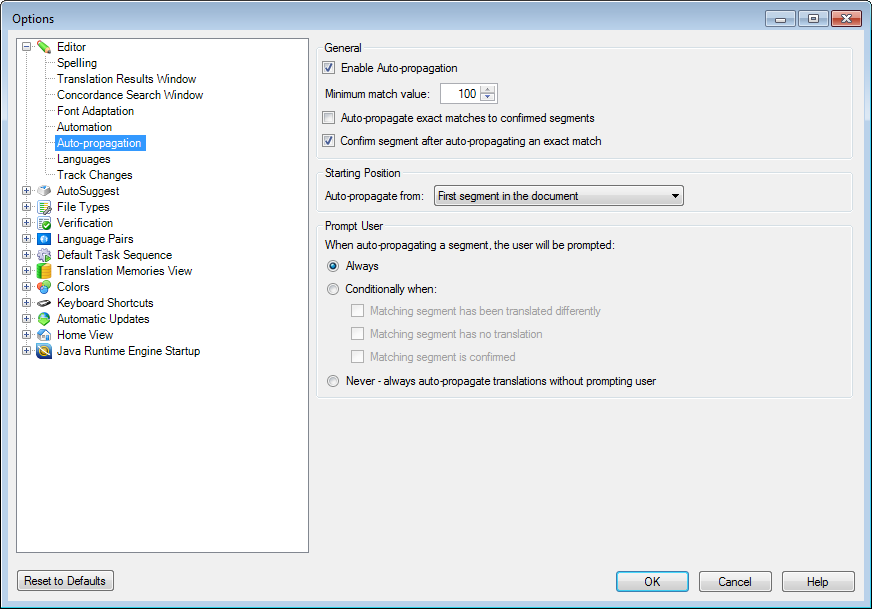 Now you can change the auto-propagation options.
Switching auto-propagation on and off
If auto-propagation is slow for number-only segments, you could switch it off and deal with these segments in another way (e.g. using Ctrl+Ins to copy the source to the target segment.)
To switch off auto-propagation: remove the check/tick from Enable Auto-propagation and click OK.
Once you've done this you can go back to the Editor. You may be able to use the Display filter to display the segments you want to translate without auto-propagation, e.g. number-only segments. Depending on what you need to do, steps may include copying the source to the target, editing the segments as required, selecting all segments and setting the status to translated. (Which sounds like it could be another post!)
After dealing with these segments, don't forget to go back and replace the check/tick in the Enable Auto-propagation field, so that you can use auto-propagation for the rest of your translation.
Checking segments before auto-propagation
To ensure you can check segments before auto-propagation: under Prompt User, select Always. This will ensure that segments are not propagated with an incorrect translation without you noticing.
Other useful settings
Confirm segment after auto-propagating an exact match is especially useful when combined with Prompt User – Always.
You may also want to select Auto-propagate from: First segment in the document, and/or change the Minimum match value so that fuzzy matches are auto-propagated (without being confirmed).
Some translators prefer to check/tick Auto-propagate exact matches to confirmed segments, while others don't like it because it may result in unwanted changes.
As you can see, there are lots of options and it's worth trying out the various settings. Do you have any more auto-propagation tips? Let me know in the comments below!
By Jayne Fox BSc MITI, German-English translator.
For German-English medical translation – and translation of corporate communications.