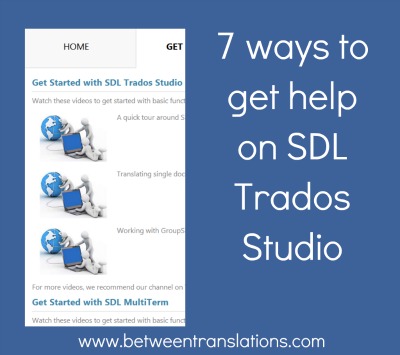 Where are the best places to find help on Trados Studio? Does the software come with a user guide? And does SDL provide support or help with troubleshooting?
I often get asked questions like these, so here are seven ways to find all the information you need.
1. Installation and licensing help
If you have bought Trados Studio and are having trouble with installation or licensing, you can use the Solution Finder to work through the problem or get free support from SDL. Go to translationzone.com, point to the support tab and click Installation and Licensing.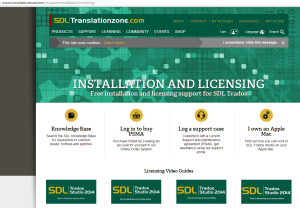 Scroll down to find the information on installation and licensing and details on how to use the Solution Finder.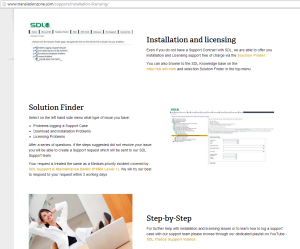 This takes you through a series of questions with steps to help resolve issues. If the steps do not help, you will be able to log a support request.
2. Welcome – get started
Once you have got the software installed and licensed, you will find lots of information on getting started with Studio and MultiTerm on the Welcome screen. Click the Get Started tab and scroll through to see what is available.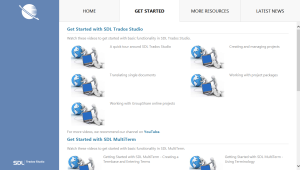 There are links to videos on how to use Studio and MultiTerm.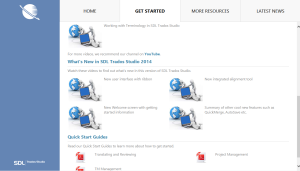 There are also links to Quick Start Guides on translating and reviewing, project management and translation memory management.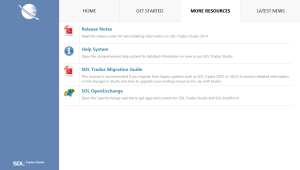 The More Resources tab has a link to the help system and the OpenExchange.
3. Trados Studio and MultiTerm documentation and online help
You can find the online help, release notes and other documentation for Studio and MultiTerm on your computer, as well as on the Welcome screen.
I have Windows 8.1 so I used the Search function to search for Trados Studio. I found the following documentation for Trados Studio 2014 on my laptop:
SDL Trados Studio Migration Guide
Trados Studio Release Notes
SDL Trados Studio 2014 Online Help
My other laptop has Trados Studio 2011 running on Windows 7. Here is the documentation I found from the Start menu:
Start / All Programs / SDL / SDL Trados Studio 2011 / Documentation /
Release Notes
SDL Trados Studio 2011 Help
SDL Trados Studio 2011 Migration Guide
Start / All Programs / SDL / SDL Trados Studio 2011 / Documentation / Quick Start Guides / English
Project Management
TM Management
Translating and Reviewing (also available here)
When I searched for MultiTerm in Windows 8.1, I found these documents:
SDL MultiTerm 2014 Help
SDL MultiTerm 2014 Termbase Creation Guide
I found similar documentation for MultiTerm 2011:
Start / All Programs / SDL / SDL MultiTerm 2011 / Documentation /
SDL MultiTerm 2011 Help
SDL MultiTerm 2011 Termbase Creation Guide
The online help for Trados Studio and MultiTerm are useful, especially if you find the right words to describe what you are looking for. If you have access to the Internet, the file links to the latest information online. If you are working offline, the local help file displays instead.
4. SDL Translation Zone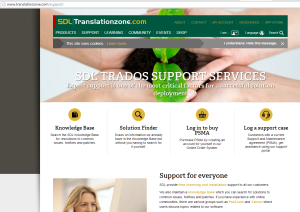 Translationzone.com has a support section with links to support services (like the Knowledge Base, Solution Finder and support portal), all of which are very handy. Go to translationzone.com, point to the support tab and click Support Services.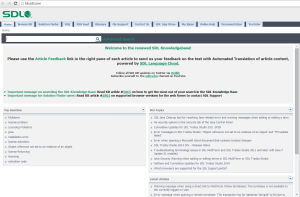 The Knowledge Base has lots of information on common issues, so it is definitely worth a look if something does not seem to be working.
The Solution Finder provides support with installation and licensing, as outlined above.
You can use the support portal to log a support case if you have a Support and Maintenance agreement.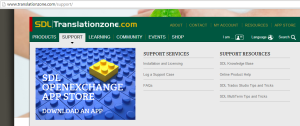 The Support tab on this page also has links to support resources including online help and tips and tricks for Studio and MultiTerm.
5. SDL Trados YouTube channel
Another source of help is the YouTube channel for Trados Studio, which has a wide range of videos.
6. SDL Trados Studio Manual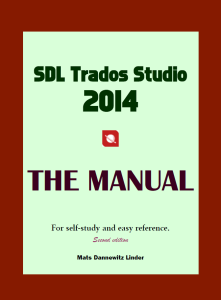 Mats Linder has written comprehensive manuals for Trados Studio 2009, 2011 and 2014. The second edition of the 2014 manual is now available, covering SP1, other updates and more new information. At 453 pages, it is very thorough, taking readers through basic functions, concepts and Studio setup, to advanced topics like regular expressions and translation memory management.
I found the information on the new alignment editor particularly helpful, as I do not find this feature very intuitive to use. There is also some handy information on OpenExchange apps that can help with particular tasks – like the AnyTM Translation Provider, which lets you use and update any translation memory, regardless of language variants or even languages.
7. Yahoo Unofficial SDL Trados Usergroup
If you have checked the resources above and still have questions, there is an unofficial SDL Trados Studio usergroup on Yahoo. The group has nearly 6,000 members and is a great source of help and advice on Studio and MultiTerm.
Other third party resources and blogs
There are a few more help sources for Trados Studio in my blog post on Translation Tribulations. Some of the information is a little out of date, but there are details of other third party resources and some independent blogs.
More coming up
That's all I have to share for today! In future blog posts, I'll look at some more CPD resources for translators and explain how to do some handy things in MultiTerm.
How about you?
Do you use any other sources of help on Trados Studio or MultiTerm? Or are there any good blogs you can recommend? Let me know in the comments below!
Please note that I do not have a commercial relationship with any of the organisations mentioned above.
By Jayne Fox BSc MITI, German-English translator. 
For German-English medical translation – and translation of corporate communications.
You might also like: